EXCLUSIVE: Akshay Kumar - "The Smallest Of Films Can Be Just As Life Changing As A Million Dollar Project"
Talking to Akshay Kumar is always a delight, more so when it comes to films like Toilet - Ek Prem Katha where one can clearly see that other than his time, money and energy he has also invested his heart and soul in there. With just two weeks to go for the film, the superstar is now ensuring that the campaign gathers pace en route its 11th August arrival. We catch up with him for a detailed conversation as he returns from London after a long family holiday that was followed by an elaborate shooting schedule of Reema Kagti's Gold.
Over to Akshay Kumar in Part I of this exclusive chat.
Of late has it become a trend in the industry that if there is an offbeat subject that has to be made commercial, reach out to Akshay Kumar?
Source: firstpost
It seems that way, but only because I have given people the confidence that I am not only interested in such subjects, but that I am also willing to put my neck on the line in order to do something I want to in life, to stand up for, or bring awareness to those that might not be aware or even care.
It isn't as if the writers were not thinking about different subjects earlier on. However, is it the fact that you are most open amongst actors of your generation to pick different films that even writers have become more and more courageous?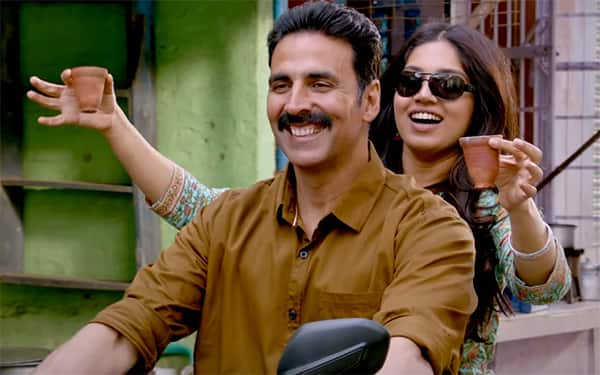 Source: bollywoodlife
I genuinely think that by giving writers courage and freedom of expression is the biggest key to what will take our industry to a new and interesting level. It's not just about making films bigger & more expensive; the smallest of films can be just as life changing as a million dollar project, if not more. It's just how it's accepted, viewed and understood that makes the difference. India is becoming so vocal about issues and human rights that larger audiences are far more accepting about offbeat films, movies with messages and controversial dramas. India doesn't like sweeping things under the rug anymore.
That sounds interesting. Please elaborate.
See, we may have magic carpets, but even they are not enough to remove the amount of concerns that need to be addressed in our country. I am all for talking about, promoting and creating as much awareness and benefit as much as I can to anything I feel I can help towards. Change only happens if you do something about it.
While you pick something like Toilet - Ek Prem Katha, it can't be plain instinct, right? You must be doing some calculations at the back of your mind around how it would be commercially viable as well?
Source: Bestquotesphotos
A subject may be so strong but without commercial viability it will not be able to spread as far and wide as is necessary. Something like Toilet - Ek Prem Katha needs to be heard from every corner, not only in India, but the entire globe! The writers are so creative that this love story is all that is needed to go from an an unforgettable real life marital crisis to an important revolutionary subject. This one is truly a love story based on the Pot (winks).
While 'swatchh bharat' campaign has been on for long, how were you convinced that when a film is made on this theme, it would actually manage to attract audience attention as well, hence resulting in footfalls?
No one ever knows what lies ahead. When something means enough to you then nothing, not even commercial criteria or damage to one's self image, or jeopardizing a faithful run at the box office should make a difference. When I become passionate about something, I see it through to the very end. Attraction or no attraction, sometimes you have just got to follow your heart and hope it leads you to love and respect, and not bashings & lashings of tomatoes or tweets at one's face!
- Joginder Tuteja
(Watch out for Part II of the exclusive interview)