Indu Sarkar, Partition: 1947 And More - Is Bollywood Audience Not Yet Ready For Uncomfortable Truths?
Several crucial scenes and dialogues from Madhur Bhandarkar's emergency drama Indu Sarkar are being asked to be chopped off.
Gurinder Chadha's chronicle of what actually led to India-Pakistan partition is already raising eyebrows in Partition: 1947.
Filmmaker Tigmanshu Dhulia's Raag Desh narrates an unspoken chapter of the Red Fort trials of 1945.
Debutant Lom Harsh's Yeh Hai India promises to bring to fore corruption in the social and political world of the modern day India.
Suddenly, quite a few filmmakers are willing to take a daring step forward and reveal some uncomfortable truths about India, both from the past and the present. Some of them are National Award winners, some are critically acclaimed for most of their films and some are just taking baby steps into the industry. The common passion amongst one and all is to reveal that side of the country which has been hitherto unseen.
However the question is - While Bollywood is willing to make a movie, is the audience ready to face such uncomfortable truths?
Madhur Bhandarkar has been known to say things as they are, be it in the world of dance bars [Chandni Bar], politics [Satta], corporate world [Corporate] or the glamour industry [Fashion, Heroine]. Known for his hard hitting cinema, he went overtly ambitions with his Indu Sarkar where he decided to go way back into the 70s and expose the world of emergency, and what really transpired back then. Well, the daggers are already out and it is not just the members of a particular political party that is seemingly up in arms, even the Censor Board is showing its claws.
Of course, the filmmaker is irate and could well be wondering if would have rather chosen to make an out and out escapist film instead! After all, while he is willing to go an extra mile and those who have invested in his film have supported him as well, there are forces outside his control that are coming in way of him telling things as they were!
Thankfully, Gurinder Chadha hasn't faced any such resistance. Well, at least as yet! She has gone way back in time before 1947 when the decision was taken to draw a line between India and Pakistan. The Lord Mountbatten plan, is what one hears was under motion when British finally decided to leave the country. Nehru, Jinnah, Gandhi - All leaders of that era are shown pondering over how things would shape up if this plan actually comes into execution.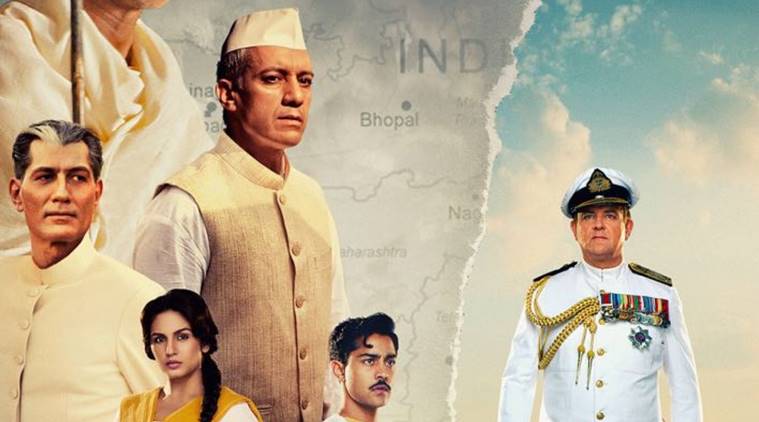 Source: indian express
The makers are willing to call a spade a spade and tagging the entire chain of events as 'an untold conspiracy'! Rest assured, the promo has been intriguing and the dramatic element on display makes one look forward to what really happened back and then. Was it just a decision that was made in isolation? Or was it something that was a well planned event? And if so, were the repercussions actually listed down.
It is apparent that Gurinder has done her research well by picking up quite a few literary material that is available on the shelves. A bitter truth is waiting to be told. However, is audience ready for that? And even if that indeed turns out to be the case, will the powers that be actually allow the episodes to be narrated as is and in entirety?
[Watch out for this space as we bring to you Part II of this feature]
- Joginder Tuteja