10 Times Supporting Actors Stole The Show In Bollywood Films!
There are several bollywood films that have surprised us with their stories, cast and box offices performances. While usually the protagonists usually steal the show away there are some films where the supporting cast have done an equally fabulous job as the leads and in some places in better! The just stole the show from right beneath the lead and left us stunned!
Deepak Dobriyal and Jimmy Shergill in Tanu Weds Manu – Pappiji and Raja Awasthi are probably two characters that simply cracked us up. So much so that we feel we wouldn't love the film for what it is if it was not for them. Where Kangana Ranaut and R. Madhavan sure creating a charm of their own, these two supporting actors owned Tanu Weds Manu!
Richa Chadda in Fukrey – The not so Bholi Panjaban, Richa Chada was alone sufficient to shoulder the movie to its success. With four actors leading the plot, it was the crafty Bholi Punjaban tossing them around who won most accolades for her role!
Source: wonderwoman.indiatoday.com
Lisa Haydon in Queen – No doubt Kangana Ranaut deserves every bit of appreciation for playing the middle class, innocent girl from Delhi but Lisa Haydon, when she appeared in the film, owned the screen with her oomph and hotness!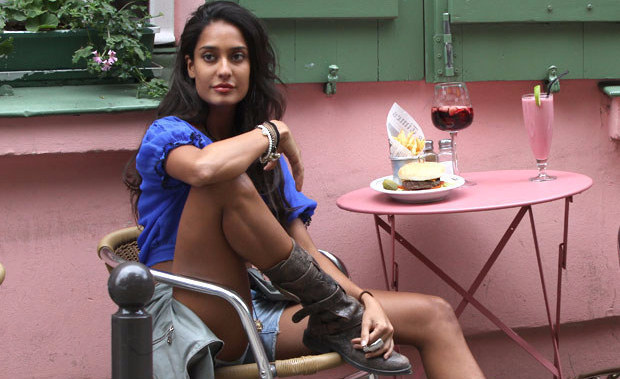 Source: buzzfeed.com
Swara Bhaskar and Mohammed Zeshan Ayyub in Ranjhanaa – There was the love struck lead Kundan (Dhanush) and then there was his wisdom imparting friend played by Zeshan who simply stood out in his performance. Every time we recall the film for Dhnush's performance in the film it won't be without Zeshan's impeccable timing and support to his character. Then there was Swara Bhaskar's love stuck character that was simply flawless that we might have loved her a bit more than Sonam in the film!
Annu Kapoor in Vickky Donor – The film might have been an ambitious attempt in itself but it would have been next to nothing had it not been for Anu Kappor playing the pestering Dr. Chadda. It can be safely said that it was more his film than any other actor in the cast.
Source: blankpagebeatdown.com
Amrita Singh in 2 States – In the Punjabi Tamil love story of Ali Bhatt and Arjun Kapoor, it was Amitra Singh won the show as the very Punjabi mom she played to Arjun in the film! No one could have done 2 States more justice!
Source: rediff.com
Priyanka Chopra in Bajirao Mastani – Priyanka Chopra caught the nerve of her character as Kashi Bai in the film and somehow had an edge of her own over the lead pair. We felt deeply each emotion she displayed and she swayed us away!
Source: boxofficeincome.com
Jim Sarbh in Neerja – The film was definitely one highlight to Sonam Kapoor's Bollywood career but it was simply owned by Jim who played the terrorist in the film! Applauds to the young actor for scaring us in to being impressed with his role so much!
Source: deccanchronicle.com
Nawazuddin Siddiqui in Bajrangi Bhaijaan - Chand Nawab the humble reporter from the other side of the border, Pakistan was as appealing to the audiences as Bajrangi himself or the little Munni! He just took over the film when he appeared on screen!
Source: ibtimes.com
Ratna Pathak Shah and Rishi Kapoor in Kapoor and Sons – The Mandakini obsessed granddad played by Rishi Kapoor and the very balanced mother played by Ratna Pathak were the highlights of the film over anyone and anything!
Source: rediff.com
Simply wow!
Get personalized recommendations on what to watch across 35+ OTTs only on
OTTplay
Related Content
LATEST REVIEWS
Kriti Sanon and Pankaj Tripathi are two incredibly talented actors who have shared the screen twi... more

There has been quite some chatter about Ek Duaa. The film, which stars Esha Deol Takhtani and can... more

Priyadarshan lovers in Bollywood are in for a disappointment as the filmmaker returns to Bollywoo... more