RANKED: The 10 Best Bollywood Action Movies of All Time
Bollywood is known for a lot of things all over the world. There is the elaborate dance numbers, the intense melodrama, the soulful songs. To an extent -- and this doesn't apply to recent films -- we are also known for our nature of comedy. But action is something we don't really associate with Bollywood.
Not that our movies are devoid of a hero single-handedly defeating a dozen of hooligans or colourful villains but, in reality, good, meaningful action films are few and far in films in Bollywood (we checked).
But rather than losing hope, we went in the other direction and looked harder. And eventually -- after a lot of effort, mind you -- we found 10 movies that are not only the best of the lot but also very dignified action movies in their own right.
So, without further adieu, here is a list of all-time best action movies in Bollywood:
#10 SHOOTOUT AT LOKHANDWALA
Based on true events, This gangster movie was one of the most grittiest movies of recent times. Featuring excellent performances from Sanjay Dutt and Vivek Oberoi, the movie is known for its explosive finale, when police raid the hotel where the bunch of gangsters are residing.
#9 DHOOM 2
The best installment of the biggest franchise of Bollywood had flaws but they faded in comparison to performances of the actors and high-octane action sequences.
#8 AWARA PAAGAL DEEWANA
Before you discount this as an out-an-out comedy, the fact needs to reminded that film boasted some fantastic action-sequences and action was something that was consistent throughout the film. This action-comedy falls into that exclusive category of Bollywood films that embraced every genre but its storyline remained in tact.
#7 BABY
This Neeraj Pandey film about 2008 Mumbai terror attacks did many things correctly which many movies fail at. The director build the tension gradually, never losing sight of its aim. The film's performances, on-point action sequences and great screenplay added to the film's success.
#6 GHATAK: LETHAL
This film released in the peak years of Sunny Deol's career. And in case you have followed Sunny Deol's career, you would know that the actor kicked a lot during that time. This story of a sweet wrestler's metamorphosis into a violent person is a quintessential fight beetween the good and the evil.
#5 MOHRA
Stylishly packaged given the times it came in, Mohra redefined the mood of action cinema in the country and stated how substance can gel up so well with flair. Running on several different narrations with Akshay Kumar, Sunil Shetty & Naseeruddin Shah in the fray, the film shaped as a taut engaging action crime drama that took a vocal stand against the rising drug problem in the country.
#4 GADAR: EK PREM KATHA
This iconic movie about a love story at the time of Indo-Pak partition was an authentic portrayal of fears, paranoia and mistrust of that time. Featuring Sunny Deol in one of the best roles of his career, this creatively inspired movie is also famous for its climactic train fighting sequence.
#3 GANGS OF WASSEYPUR (I & II)
We have praised this Anurag Kashyap epic crime saga at every opportunity we have received. Boasting a fantastic cast, inventive score and gripping dialogues, the most impressive thing about this movie about the brilliant vision of the auteur director.
#2 BORDER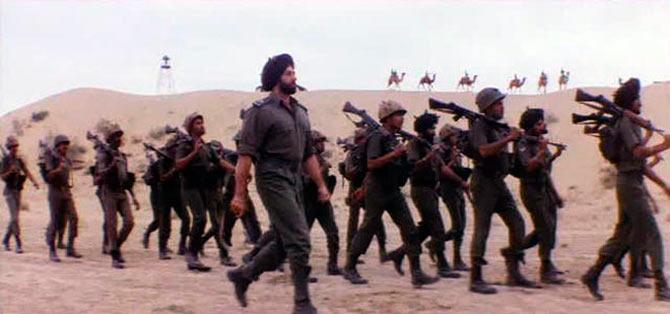 In case you didn't know, we have already praised this J.P. Dutta war classic. Perhaps, the best thing about thsi popular film is the natural way the life of a soldier was depicted.
#1 SHOLAY
One of the most popular Bollywood films of all time, is also one of the best Bollywood movies ever made. Combining ultra-violence with unforgettable characters, director Ramesh Sippy and writers Salim-Javed created this unique concoction that has redefined the "iconic" status.
Read more: RANKED: Every Movie Ashutosh Gowariker Has Ever Made
Related Content
LATEST REVIEWS
Ayushmann Khurrana is a superstar and he has proven it time and again with his spectacular acting... more

Bhoot: The Haunted Ship had been hyped the moment it had been announced. First of all, it was Vic... more

When I was younger, I considered Imitiaz Ali to be a magician. Remember films like Jab We Met and... more