GOT S7E5: Samwell Tarly Proves That Not Listening To Your Wife Isn't Quite A Good Thing To Do!
It wasn't the episode we all were looking forward to, because episode 5 has never been the highlight of the series in any season. But, this one, very subtlety unfurled the curtains, and fixed jig saw puzzles like a cake walk!
Gilly answers the biggest riddle on GOT and Samwell f**king Tarly ignored and shut her up!
Sam proved how lethal can ignoring your wife be, especially when you think she's blabbering shit, but she's infact spilling out gold! 15, 782 steps is all he selectively heard and remembered from a bomb that Gilly dropped as she read a manuscript which had proper accounts of bowel movements and the ANSWER to the relationship between Jon Snow's mother Lyana Stark and Rhaegar Targaryen! Sam!!!! Why? Of course we know that he'd come back to it when the directors feel fit, and secretly arent' we all happy that he's fled from Citadel! Finally! Enough of those bowels and time for some real action!
Jon Snow is NOT a Bastard!
As if we loved him less as a Bastard? But now we finally know, thanks to Gilly because unlike Samwell, we listen! What Gilly read makes sense that Rahegar annulled his marriage with Oberyn Martell's sister and married Lyana Stark. Robert Bratheon who also loved Lyana, made a story of rape and abduction against Rhaegar and declared Jon a bastard. And one of the major proofs that we could get out of this episode that Jon is not a bastard is when he looked into the eyes of Drogon, touched him and saw ice and fire in his eyes. That left Danaerys amazed, but gave us a clear sign that all are theories are after all, RIGHT!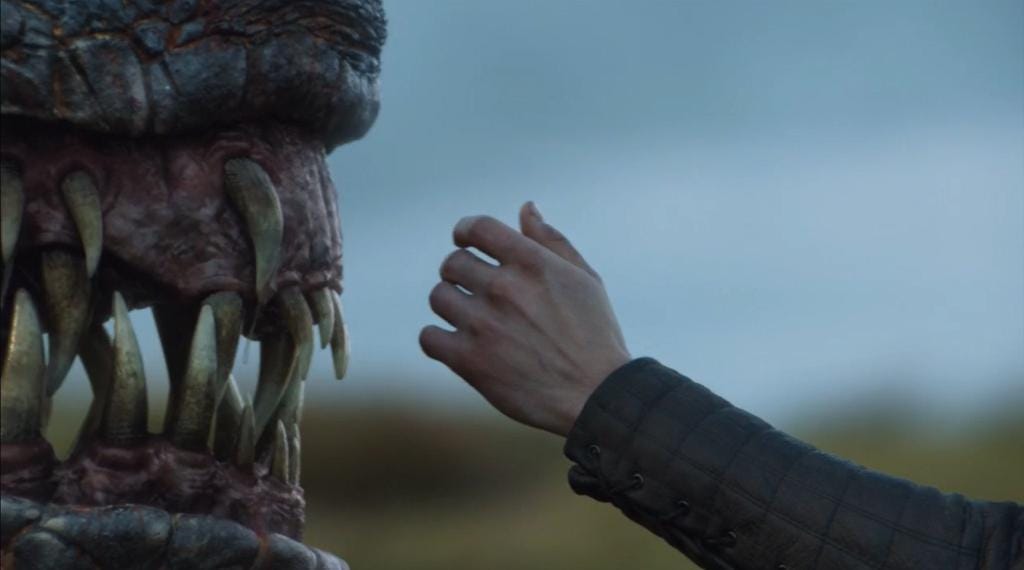 source the independent
Jon finally knows that Arya and Bran are alive, but we didn't get to see his happiness
Bran was warging and he finally saw the Night King marching towards the wall! At once he sent ravens, and the most important one to Jon Snow who was at Dragonstone. As he read the scroll, his eyes lit up for a moment when he realized that Bran and Arya are alive! But, the army of the dead took over his happiness and he decided to march towards the wall instead of going to meet them at Winterfell.
Is Arya falling into Little Finger's filthy trap? (Praying that she doesn't)
We all read and saw reports of Lady Stark's ghost in the last episode. But is she really alive? Arya was following him and he knew she was! Arya heard him say, 'Lady Stark thanks you for this gesture!' but was it real? We don't know what Little Finger is upto, but we can't afford to see Arya falling prey to Peter's conspiracy. Of course reading a hidden scroll and finding that her mother is alive would make her happy, but we don't know if we can really trust Baelish with this! Is he another Snape like character from HP, who'll win our warmth and love at the end because he was trying to protect in disguise? Or, will Arya behead him with his own dagger? We'd love to see.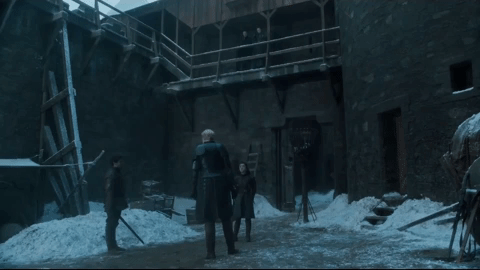 Gendry is back!
Short and sweet, crisply edited scenes between Ser Davos and Gendry gave some respite to us. Will Gendry mine and make some weapons to kill the dead?
We do not quite like the intimacy between Ser Jorah and Dan, especially in front of Jon
Jorah kissing and hugging Danaerys made us feel uncomfortable! All right we know they're friends and he secretly loves her, but now that Jon is THERE, even he was a bit absurd in the presence of the two. This is getting interesting. With the atmosphere of fear and war, there's love in the air, that too from so many sides!
Tyrion and Jamie's meeting
Oh they finally met! After we saw Tyrion shout, 'You fucking idiot!' when Jaime foolishly ran into Drogon to kill Khaleesi, none of us thought he'd die. Of course not! They met in King's Landing and Cersei got to know about their secret meeting arranged by Bron. We're not sure if Jamie would agree to have a chat with Dan. Not in seven hells!
Sorry to those who felt Sansa would marry Dickon Tarly!
Dracarys! BOOM! We don't need to explain this. However, Maester wasn't able to inform Samwell that his brother and father are dead. Do you think he'd care?
S7 E5 was not a bomb, but it dropped so many bombs and fixed jigsaw puzzles right? Now, that's the Game Of Thrones!