Here's Why Nawazuddin Siddiqui Will Steal Every Bollywood Actor's Thunder in 2017!
Nawazuddin Siddique has had a life of immense struggle. The man, who had honed his craft from the national School of Drama, was offered some 2 minute roles in movies. These roles were even peripheral than the side characters. Had it been us, we might have given up long back. But he was persistent about his passion and finally he arrived with the role of a police officer in Kahaani. With Gangs of Wasseypur, there was no looking back for him!
Nawazudddin Siddique has become a brand in himself today. His talent is beyond any question and we have seen in weave magic on-screen with his craft. He is more popular for his performance in small budget and parallel cinema. But of late we can see him make an entry into the out and out commercial movies. Yes, the kind of movies that we call as typical Bollywood entertainer that has dancing and action sequences. Afterall, one can be the best if one is comfortable in everything and Nawazuddin is here to prove just that!
Though his 2016 commercial release, Freaky Ali, did not fare too well at the box office, it looks like he is all set to own 2017. Here's how.
His first release of the year was Raees. And like every SRK movie, this one too was a blockbuster hit. But that does not mean that SRK overshadowed him. Similar to Bajranjee Bhaijaan, he held his position and his stand throughout the movie. But Raees looks like only a prelude to the many avatars of Nawazuddin Siddique that awaits us this year!
source- kinky little boots
Nawaz's next release would be Mom, which will be releasing on 7th July. He will have an extended cameo in the movie, but from the promos, it looks absolutely mind-blowing. He looks unrecognizable as the old man. He plays Daya Shankar Kapoor aka DK. It looks like he will play a detective. From his mannerisms to his way of speaking, everything is different!
He will be back again with yet another surprise in Munna Michael, where he will play a gangstar who wants to dance. Nawazuddin sports an absolutely clean-shaven semi-tapori look, but his attempt at dancing will crack you up. The last time we saw him dance like no tomorrow was in Freaky Ali.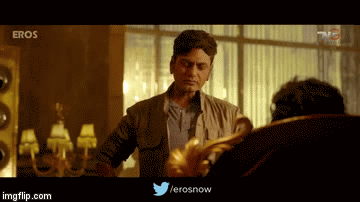 Nawazuddin will be seen romancing, dancing, fighting and doing everything that we have seldom seen him do. This is a huge surprise, coming from the man who is known for his serious roles!
And finally it looks like Nawazuddin would be back in his 'Faizal' avatar, this time even more badass. Babumoshai Bandookbaaz. He is raw, unabashed and will be doing what he does best- playing with blood. The trailer looked absolutely terrific and we can expect him to give a performance comparable to Gangs of Wasseypur! Check out the trailer here:
Is there anything Nawazuddin Siddique can't do? We don't think so.
Get personalized recommendations on what to watch across 35+ OTTs only on
OTTplay
LATEST REVIEWS
Kriti Sanon and Pankaj Tripathi are two incredibly talented actors who have shared the screen twi... more

There has been quite some chatter about Ek Duaa. The film, which stars Esha Deol Takhtani and can... more

Priyadarshan lovers in Bollywood are in for a disappointment as the filmmaker returns to Bollywoo... more