Shocking Revelations Of Hrithik Roshan And Kangana Ranaut's Spat!
The battle of rumoured ex-lovers just got dirtier!
We're talking about Kangana Ranaut and Hrithik Roshan's spat. So for those who don't know, let us tell you, it all started with Aashiqui 3. Now you must be wondering what does a movie have to do with it? Well, there were a lot of speculations about Kangana to star in the movie opposite Hrithik but later we got to know, the actor didn't want the Queen actress to be in it. This led to her not being a part of it!
Although, the trigger for legal notices started when Kangana decided to address these issues publicly where she said " Yes, many lame rumours are doing the rounds, even a dumb ass can tell where these rumours are coming from. I don't know why exes do silly things to get your attention. For me that chapter is over and I don't dig graves," she is quoted as having said."
(The couple were rumoured to be dating during the shoot of Krissh 3. Although, there was no confirmation about the same.)
To this, Hrithik replied
Ther r more chances of me having had an affair with d Pope dan any of d (Im sure wonderful)women d media hs ben naming.Thanks but no thanks.

— Hrithik Roshan (@iHrithik) January 28, 2016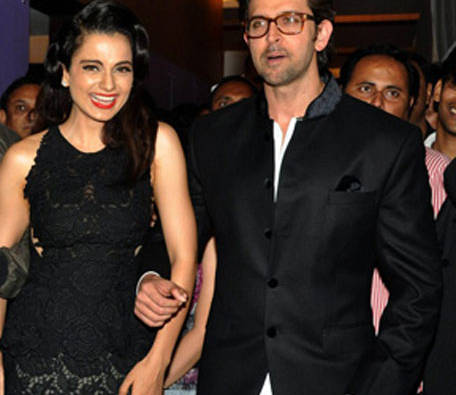 Although, this tweet wasn't sufficient for Hrithik and that's where the exchange of legal notices started! He sent Kangana a legal notice taking things to next level. Who would have thought, things could go this bad?
Rumours have started doing rounds that Hrithik had proposed Kangana for marriage in Paris. According to a news published in Mumbai Mirror, Hrithik had proposed to Kangana for marriage and they were secretly engaged as well. According to this report, a close friend of Kangana has decided to spill the beans about kind of relationships these 'Krrishh 3' co-stars shared with each other. It is being said that Kangana was skeptical initially with the fact that Hrithik was still married to Suzanne hence he won't be able to commit to the relationship. However according to these reports only, the duo came close after Hrithik shared the details of his marriage with Suzanne hitting the rocks. He was still not sure about the divorce hence, it was under the wraps and they carried on away from the public eye, as claimed by the source of information.
As per the same source, Hrithik was uncomfortable with Kangana being away from him because she did not want a secretive relationship anymore. Allegedly, Hrithik called up Kangana and told her that he is finalizing the divorce and very much intends to get married to her. This time, the duo patched up and it was sort of an engagement in Paris from what we are told by the piece of info. While they were together, Hrithik tried to be sneaky which ticked off the wrong side of Kangana and his alleged closeness to his then co-star Katrina Kaif during the shooting of Bang Bang. This made things worse and as per the reports, increased the bitterness between the two when Hrithik blamed Kangana for being over reactive due to her medical condition as told by her sister. Apparently he was also irritated by the fact that Kangana tried to call his father and talk about them which he never expected her to do.
Now let's tell you what the notice consisted of -
1st Claim - Kangana flooded Hrithik with 1439 emails out of which, most of them were "senseless, absurd and personal".
To this, Kangana replied by saying Hrithik had a secret email id through which he used to communicate. This shows that he was equally involved in this! Her notice consisted of -
"Your client (Hrithik) has claimed to having received 50 emails a day from the day Kangana got to know of the correct email id till the date of sending the notice. This totals to 601 days and, therefore there should have been 30,000 mails as opposed to 1,439 mails claimed in the notice. This fact further proves the exaggeration and false claims made by your client."
2nd Claim - Kangana suffers from Asperger's syndrome which makes her imagine things!
Kangana had a response to this as well where she said the actor is suffering from his own mental illness!
Besides these claims, Hrithik's notice stated that Kangana needs to hold a press conference where she will apologise publically for referring him as a "silly ex".
Kangana's lawyer, Rizwan Siddique's notice clearly states that actress will not apologise. The notice states -
" She does not feel the need to give any statements on the social networking accounts as demanded by your client. She never needed the name or reputation of your client to garner publicity, therefore your client should fully realise and face the truth that my client herself is a well-known celebrity who has achieved stardom on her own, despite being the first generation in this business and in the light of these apparent facts your client should immediately accept the truth and withdraw the notice containing absolutely untenable, baseless and wild claims and allegations. If he circulates her emails, images or other material which your client willingly received in good faith from my client then upon such circumstances it shall be rightfully deemed that your client is willfully seeking to not only defame her and issue unwarranted threats. These actions shall be taken extremely seriously. She will then have no option but to file criminal proceedings against your client, at his risk, costs and consequences. Withdraw your notice within seven days of receipt of the reply."
We are still waiting for Hrithik or his lawyer to comment on the same!
Amidst all the accusations, this battle has taken a new turn yet again. We all have been hearing about the exchange of emails between the couple but seems like Hrithik didn't reciprocate to one of the 2000's emails Kangana sent.
Recently, in Pinkvilla's report, we saw a few email's sent by Kangana To Hrithik between July 2014 and December 2014. The copies of these emails and more that were exchanged by the duo have been sent to the Cyber Cell for investigating purpose!
Here are some pictures from their emails -
But, we still give Kangana the benefit of doubt! What do you think?
The forensic team has come out with the reports after checked into all the electronic gadgets used by Hrithik to check whether he actually sent Kangana any photos or replied to any of the emails.
The reports say's "We found no digital footprints nor any fingerprint The digital evidence were intact, not forged. There was no existence of any means for any hacking. Only images of Kangana, barring a few related to their films, were the ones sent as attachments to him on email directly from her iPhone 5S" and the report also significantly added, "it is analyzed that Hrithik Roshan did not entertain the emails nor accessed them until recently for forensics analysis. There is no digital evidence to the claims from Kangana that she had been receiving emails from Hrithik through the "hroshan@email.com" account which Hrithik says is not his own original ID."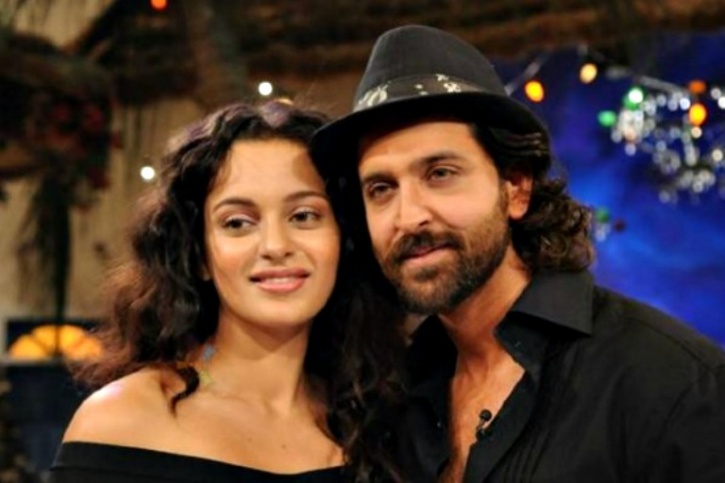 The case has become a mystery and we are just as confused as anyone can be! After all the evidence and reports, Hrithik Roshan's lawyer said "Let's not get confused in this war of words. We will prove that our client Hrithik Roshan has had no relationship with Kangana Ranaut. We have presented solid evidence of this nature to the investigating authorities."
We wonder what's next?
Related Content
LATEST REVIEWS
Aren't human beings supposed to be creatures who have their own vices and fallacies? But often ti... more

The tough times of the covid-19 pandemic have certainly made us stop, look around, think and repr... more

Nawazuddin Siddiqui had been shooting for this film called Ghoomketu back in 2014! Yes, this is a... more