Lost Love Stories : Kamal Haasan And Sarika
Everyone wants to have a perfect love story, but do perfect love stories really exist? Love doesn't come with a guarantee card and a warranty for several years. Love just happens!
It comes with its own imperfections which seem rather perfect when the cupid strikes. Moreover, isn't love all about accepting someone with their imperfections? Something worth pondering!
Bollywood has transformed many of us into daydreamers and die hard romantics, to an extent where we idolize certain couples and are intrigued by relationships of the la la land!
#LostLoveStories will bring you one love story that got lost in the seeds of time, every Sunday at 11 am.
She left her extremely successful career for the man she loved. She was the most successful child artist the film industry had ever seen. He was a superstar down South.
Kamal Haasan And
Sarika
" title="Lost Love Stories : Kamal Haasan And Sarika " />
source tumblr
In Lost Love Stories, we've never dealt much with the early life of the celebs we've talked about so far, but the couple whose love story we're exploring this week have had a very distinctive childhood and carries a big chunk of emotional baggage.
source Youtube
Is it easy to love someone with a dark and abusive past?
Sarika and Kamal Haasan came from two similar emotional circumstances, but absolutely different parenting. The innocent and fair face of the little child in the movies around Meena Kumari , Sanjeev Kumar, etc. was Baby Sarika. She was unfortunately a source of income for her mother who was separated from her father with no inheritance of money or property. The four year old kid was exposed to cameras, lights and make up because she was the bread earner of the house. Little did she know anything about her bank accounts and property, or even her acting fee until she turned 21?
source masala.com
Sarika was subjected to massive physical and verbal abuse as a child by her mother. Every time she would do something that pissed off her mother, she would end up being beaten in bruises. The worst thing that happened to her was lack of education. She never went to school. A tuition teacher was appointed at home to school her who would make her repeat same lessons over and over again, leaving little scope for any growth and understanding.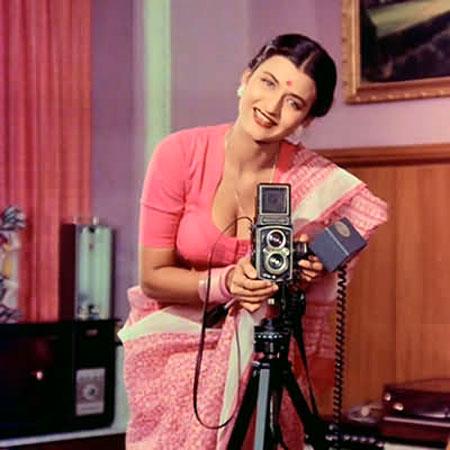 source rediff
Sarika loved to read. She tried to school herself, and once she ended up getting brutally beaten up when she spent 1500 rupees (which her producer gave her on the sets when her mother didn't accompany her) in buying books. Next you know is she decided to run away in her car, only to realize that she had more than five apartments bought by her mother in Mumbai, none of which were in her name. A homeless Sarika didn't have an option to look back, so she slept in her car for six days, took a bath at different friends' places.
source the bridal box
Kamal on the other hand didn't share a very good relationship with his mother, but he was never under the yoke of any kind of subjugation. His father was a very encouraging man and he got a reasonably great education as the youngest child in the family.
Love had already happened to both?

Sarika was then linked to Kapil Dev and she was apparently spending time in Chandigarh with this family and everyone loved her. She was only left alone later to realize that Kapil had a girlfriend whom he wanted to marry, and she was just a rebound for the time when Kapil had fought with Romi.
She was also said to be in a relationship with Sachin Pilgaonkar who was a child actor when she was working as a child artist. But, fate had bigger plans.
The unmarried mother

Kamal Haasan was a big star down south even before his Bollywood debut. With Sagar's soaring success sin the mid-80s, Kamal Haasan had arrived. Kamal was already married to Vani, who was a professional trained dancer. Rumour mills were already abuzz with the arrival of Sarika in his life, such that their divorce was almost final. Kamal and Sarika's affair was always under wraps. "It was magic," said Sarika. The woman who had always been subjected to abuse and distress, finally had a beautiful career, and after all, love was knocking her door.
She was pregnant with her first child Shruti Hasaan (today's Diva and popular Bollywood actress). She had a choice to marry Kamal, considering the Indian society doesn't let a woman conceive before getting into wedlock. But Sarika wanted another child. She didn't want one child out of wedlock and one who was born after. Both Shruti and Akshara were born, following which Sarika married Kamal Haasan with two beautiful daughters in 1988.
The woman, who left her flourishing career at 28, was now getting divorced at 43.
source hindustan times
Separation
According to an old interview of Kamal, he said, "No. The parting wasn't smooth in either case. I was too much in love for an amicable settlement. I am sure it wasn't easy for my wives either. Marriage is not a film you can forget if it flops. I felt scarred." A rather quiet Haasan, who was already divorced from Vani, and now Sarika, revealed, "I saw them coming. Sarika and I were married for 17 years. And I knew the marriage wouldn't last 12 years before we parted ways. Although we kept pulling on. I thought it would affect the children. I waited for them to come of age."
Sarika's plight
Grapevine was abuzz during their separation that she apparently tried to commit suicide because she had sensed the presence of another woman in Kamal's life. She badly fractured her spinal cord as she tripped off their balcony in Chennai. She was hospitalized for more than three months and her recovery didn't bring any promising news for the couple.
The child who was forced to grow up

While this was going on, Kamal spoke to his daughter Shruti and said, 'Sorry for rushing you into growing up. This is what it is and you have to grow up. You are losing three years of your teens, think of it like that. I can't help it. I am sorry.' He added, 'I think we both had tears in our eyes and I was holding her and that's life. But I could feel that she understood.' This is quite ironically a similar situation that occurred in Shruti's life, the difference being that she was seeing a failing relationship, and her mother had seen a failed childhood.
source merepix
Read more: Facts About Kamal Haasan's Daughter Shruti Haasan
Because some people aren't meant to marry

Kamal didn't hesitate from accepting, "I never believed in marriage. People marry because of peer pressure but I don't subscribe to the 'herd mentality'. I shouldn't have married. I married for the convenience of my women. Vani wouldn't live-in and I wasn't strong enough to put my foot down. And the society was such that Sarika and I couldn't book a hotel room together even after we had two daughters."
Sarika's take on her marriage and life

She doesn't talk much about her marriage of 17 years and you still see her in some movies and theatre. Her song Dum-a-dum mast kalander in David was much appreciated and her latest stint in Dharma's Baar Baar Dekho as Sidharth Malhotra's mother was welcomed by her fans. The only time she spoke to some media sites here's what she had to say. "Like any other mother who takes a break to rear her children, and later comes back to her profession, I too did the same. My daughters are my best friends. I don't want my children to go through what I did. I was always insecure when I met educated people. They don't have to grope in the dark like me. In your dark phases, you seek answers to so many things, you are lost and restless but when you are out of it, you feel relieved. It's like attaining nirvana. Two individuals, after a long relationship, can go their own separate ways and yet remain friends. Why will I not do a film with Kamal Haasan? After all he's India's best actor!"
Where is the couple today?

Both Kamal and Sarika are proud parents of two incredibly talented daughters Shruti and Akshara. Shruti is a very successful and trained singer, plus she's a big star in South and making her way up in Bollywood, while Akshara is exploring her future in Bollywood after making her debut with Big B and Dhanush in Shamitabh.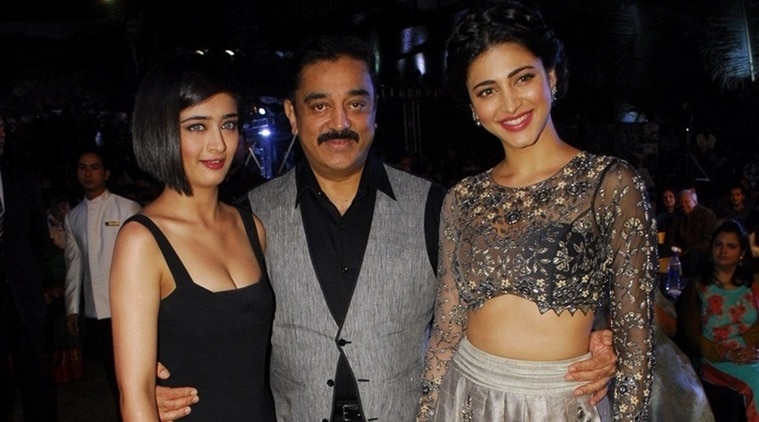 While Kamal is based down South and is one of the best talents in the industry so far, Sarika is still the no make- up, innocent looking woman who started her life all over again at 43 in a new apartment in Mumbai.
source urbanasian
Sarika won her first national award for Parzania and she's still spotted in crisp kurtas and simple interests in life, while Kamal Haasan is not in a very good space. Back then when Gauthami was touted as the reason behind Sarika and his divorce, he described the woman saying, "She is very different. She is a very progressive lady, and not just to please me." Ironically, after 13 years of live in relationship, Haasan has recently been in news for getting separated from Gauthami.
Love never fails. People fail in love.
Read more: Lost Love Stories Ranbir Kapoor And Deepika Padukone