Rare Facts About The Real Life Rustom: The Case That Shook The Entire Nation!
Akshay Kumar is all set to bring his next venture on the big screen, Rustom on 12th August this year.
While the trailer of the film has got people intrigued, there is much to the film than what meets the eye. In the film, we could see Rustom Pavri's story unfolding on the screens as he becomes the epitome of patriotism and sets the unprecedented example of a hero who turned into a villain, and was still loved.
Rustom Pavri's life portrayed in the film is inspired by one of the landmark cases in the history of not only Judiciary but also the history of independent India. This film is inspired from the K.M. Nanavati vs State of Maharashtra case which led to the abolishment of the Jury system in India.
Tough to follow? We'll walk you through this.
Who was K.M.Nanavati?
Kawas Maneckshaw Nanavati was second in Command at Indian Naval Services' flagship INS Mysore. He was a Mumbaikar belonging to the Parsi Community. He was married to an Englishwoman Sylvia and had two sons and one daughter.
What Happened?
On 27th April 1959, when he got back home, his wife Sylvia told him that she is in love with his long-time friend, Prem Ahuja and that they were having an affair going on. Of course, Nanavati was upset about it but he did not show and went ahead with dropping his wife and kids at the film theatre and went to meet Prem Ahuja. There he killed Prem and went back and surrendered himself to the police.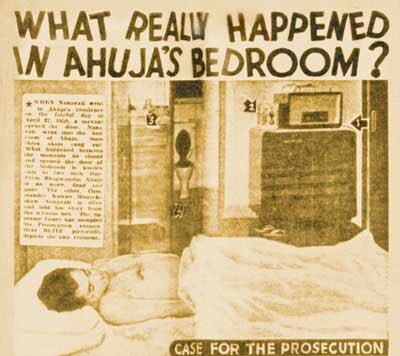 How did it happen?
So when this case happened, Courts still followed the Jury system which meant there used to be a panel of selected members acting as a jury which gave out verdicts for cases. It is still followed in countries like the United States. However, in this case, due to the verdict the Jury gave, this particular system was abolished.
When K.M.Nanavati pleaded not guilty, Blitz magazine ran a campaign for him entirely to get him out scot free.
When Jury of Bombay declared him not guilty, people went into a frenzy, but the case was referred to higher appellate and it was determined that Jury could be manipulated by public opinions and it could affect the judgements.
During the case, Prem Ahuja's sister Mamie Ahuja was campaigning strongly against Nanavati but her case fell weak in ints knees because of Nanavati's clean background and his service in the Indian Navy. Also, when it was put in front of the court that when Nanavati asked Prem to marry Sylvia, he replied, "Will I marry every woman I sleep with?" , a lot of people turned in the favour of Nanavati and what he did.
At the end, Nanavati was pronounced guilty but his sentence was significantly shortened and he moved to Canada after his release. With his wife Sylvia and Kids. Nanavati passed away in 2003.
Akshay's character Rustom Pavri is inspired from K.M. Nanavati. It will be interesting to see one of the most talked about, historical and glammed up cases and its details on the silver screen. Rustom releases in theatres on 12th August.
Get personalized recommendations on what to watch across 35+ OTTs only on
OTTplay
LATEST REVIEWS
When the trailer of Toofaan had hit the internet, I was excited as hell to watch this one. The fa... more

Mahesh Narayanan's latest film Malik is finally out after being delayed multiple times and is bas... more

Landing on the heap of films based on terror attacks fictional or otherwise is Ken Ghosh helmed t... more