All You Need To Know About The Love Story Of Selena Gomez And The Weeknd!
From Selena softly whispering 'I Love you' into her Beau's ears as his ex's Mum walks past them to canoodling at each other's concerts, Selena Gomez and The Weeknd (Abel Tesfaye) just Can't- Keep -their- Hands- to –Themselves.
Escalating to be one of the most controversial couples of 2017 after their dramatic breakup with their ex-lovers; Bella Hadid and Justin Bieber,'Abelena'(Selena + Abel) has been slaying the social media with a whirlwind of adorable PDAs.
Put on your heart shaped reading glasses and gear up for a timeline of everything you need to know about Selena Gomez and The Weeknd's Unconditional love for each other. Love is in the air Selenators!
November 10, 2015: Selena Gomez and The Weeknd share the Same Stage
Long before we could ever imagine these two could be an item, Selena and The Weeknd shared the stage during the 2015 Victoria's secret fashion show, performing their hit singles. The two even stood next to each other to watch the confetti swirl at the end of the show. We'd never know if it's at this moment when love sparked between Selena and the Star boy.
November 30, 2016 : The Weeknd's Awkward run in with his ex- Bella Hadid
A year later The Weeknd performed alongside his ex- Bella Hadid at the same stage where he performed with Selena whom he fancied. A tricky territory for the former couple, eh? The Weeknd and Hadid had broken up mutually, due to busy schedules but, they continue to remain best friends.
January 11, 2017: The PDAs have surfaced
Two months after Bella and the Weeknd reportedly split, and a month after they shared an awkward moment on the runway of the Victoria Secret Fashion Show in Paris, TMZ releases paparazzi photos of Selena and The Weeknd sharing a kiss outside of Giorgio Baldi in Santa Monica.
January 12, 2017: It's Sizzling!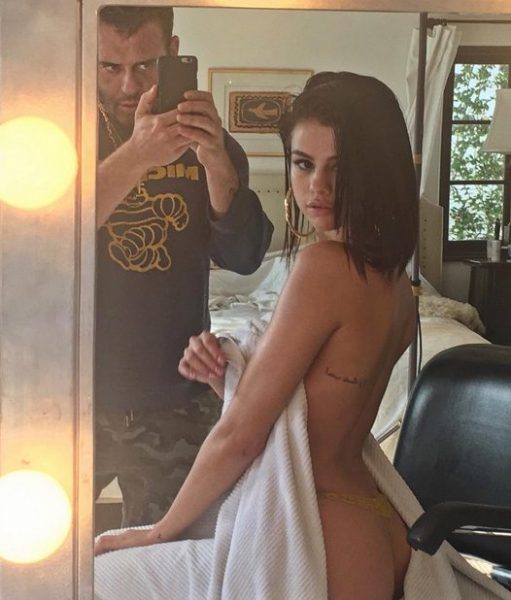 Selena takes down the photo of her bare self in a sheer golden thong including a tag for The Weeknd and a heart emoji on Instagram.
January 13, 2017: Is The Weeknd's latest song 'Party Monster' about Selena Gomez?
See for yourselves! The Canadian crooner is definitely singing about his lady love.
January 15, 2017: Selena listens to 'Starboy by The Weeknd'
While on her way to church in West Hollywood Selena was spotted listening to her bae's music on her phone. They sure do bond through music.
January 17, 2017: Jealousy Alert! The Weeknd's ex- Bella Hadid is pissed because he's moved on.
According to People's magazine Bella and The Weeknd's did not have a dramatic split but, the fact that he's moved on so quickly with Selena is stirring up signs of a future cat fight.
January 21, 2017: Selena's ex-Justin Bieber calls her current boyfriend's music 'whack'
The former Disney star turned superstar Selena who keeps us on our tip toes when it comes to her love life has left undying flames of her relationship with her exes; Charlie Puth, Zed and Justin bieber. Bieber didn't seem quite pleased with Selena's recent Romance. When asked by TMZ whether he'd be listening to The Weeknd's music anytime soon, Justin replied, "Hell no, that sh*t is whack." Woah! easy Bieber.
February 4, 2017: Selena and The Weeknd, the younger version of Gomez's Parents
If you don't believe me then check out this picture of Ricardo Gomez and Mandy Teefy shared by Gomez's fans.
February 14, 2017: The couple spent their Valentine's Day in a Luxury Yatch
The Cupids have spotted the loved up angels cuddling on a luxury yacht in Marina Del Rey, California. Followed by TMZ giving us a sneak peak at the couple's relaxed voyage on the internet.
March 18, 2017: Selena's Weekend off with The Weeknd
Selena and The Weeknd jet off to his hometown of Toronto for a romantic weekend where the couple enjoyed the pretty display of jellyfish in Ripley's Aquarium of Canada.
April 16, 2017: Romance at Coachella
Selena in her sunflower-print blue dress and matching scarf snuggles up to The weeknd at Coachella as they make their relationship public when Gomez posts a lovey-dovey Coachella picture of them on Insta.
May 1, 2017: Selena and The Weeknd's Steamy Kiss at the Met Gala red carpet
In a gloriously embellished pink slip gown by Coach's Stuart Vevers, Selena stood arm -in -arm with her beau on the red carpet. The couple who looked like a page straight out of a Nicolas Sparks book kissed for the cameras in front of the paparazzi.
May2, 2017: Selena's Mum Comment's on The Weeknd's post
"Glowing, Smiling, looking health and equal love. Mama is happy XO" commented selena's mum. Well, Selena definitely got her mum's approval. Wait, Are these tears running down my cheeks! So emotional.
May 22, 2017: Is Selena and The Weeknd collaborating on a new song together?
Songwriter/producer Max Martin has given a clue as to Gomez's latest collaboration for her up-coming single, 'In Her Element' claiming the weekend as the co-artist for the song. The Goosebumps rise!
June 7 2017: Selena eats cheesecake before her 'Boy friend's'concert
Alas! This is the ultimate proof that these two are official! Over to you Selena….
Yes! You heard that right. Selena: "I got a cheese cake before my 'Boyfriend's' concert."
Hope their love lasts for a thousand years! What do you think of 'Abelena' ? Comment Below :)
Disclaimer: This article has been submitted by our content contributor and has not been endorsed or edited by Desimartini editorial team.
Get personalized recommendations on what to watch across 35+ OTTs only on
OTTplay
Related Content
LATEST REVIEWS
Kriti Sanon and Pankaj Tripathi are two incredibly talented actors who have shared the screen twi... more

There has been quite some chatter about Ek Duaa. The film, which stars Esha Deol Takhtani and can... more

Priyadarshan lovers in Bollywood are in for a disappointment as the filmmaker returns to Bollywoo... more