Throwback Tuesday - Andaz Apna Apna Special
Today's TBT (Throwback Tuesday!) looks at ten nuggets from Andaz Apna Apna and traces the history of the antiquities mentioned in them. While celebrating a twenty-year old movie with tons of in-jokes, a bit of history lesson is not a bad thing.
Amar Prem
The heroes borrowed their "paavitra aur bhakti ras se bharpoor" names from the Rajesh Khanna-Sharmila Tagore romantic megahit of 1972, directed by Shakti Samanta. It had brilliant music by RD Burman and is still remembered for the iconic Rajesh Khanna line... "Aansoo pochh dalo, Pushpa. I hate tears."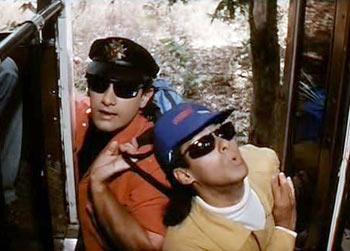 Source: im.rediff.com
Scene from original film: https://www.youtube.com/watch?v=zN5pbv6AV8Q
Bhopali
Salman's father (Jagdeep) ran Bankelal Bhopali Tailor Shop, which was a reference to Jagdeep's most famous role – Sholay's Soorma Bhopali. That role – more specifically, the Bhopali accent – made him an icon. He retained the accent in AAA as well and his shop was – obviously – located in Bhopal itself.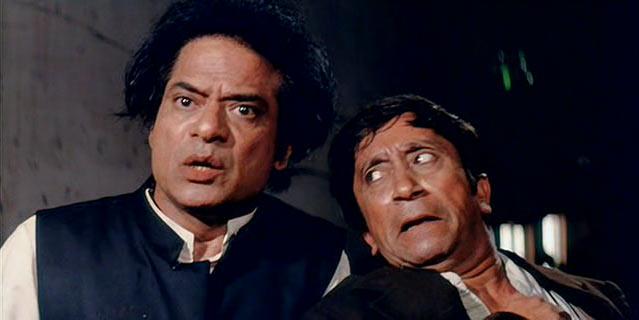 Source: im.rediff.com
Original Scene: https://www.youtube.com/watch?v=CKGh0Qn2sHU
Wah Wah Productions
Prem was being conned by Johnny (Mehmood) who ran a photo studio – Wah Wah Photo Studios – but promised to produce a film with Prem in the lead. The name of his 'company' was actually launched by Mehmood in 1960s comedy classic, Pyar Kiye Jaa. In a hilarious scene in that film, Mehmood described a horror scene to a cowering Om Prakash to get him to produce the film.
Source: http://i.ytimg.com
Original Scene: https://www.youtube.com/watch?v=JFVH4oSjqOE
Mohan Bagan
"Champion tha main football ka... Mohan Bagan ke liye khelta tha... 1988 ka woh aitihasik match bhi yaad hai mujhe jab main Mohan Bagan ke liye lagatar chhe goal mare they..."
When Amar's 'memory returned', he emerged as a football ka champion playing for one of the top football clubs of Calcutta and a major force in the national football scene when AAA released. Shoojit Sircar and John Abraham are collaborating to make a period film on a historic win Mohan Bagan had over a British football team in 1911.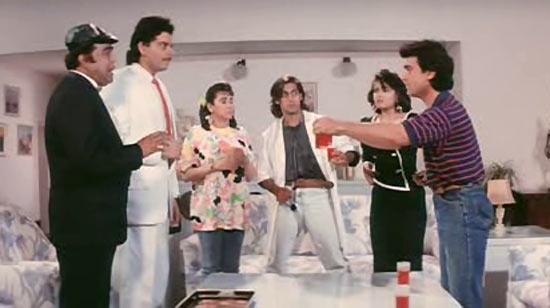 Source: im.rediff.com
Ramanand Sagar's Ramayan
A devout inn-keeper was fooled into believing Amar-Prem's antics were actually manifestations of brotherly love, which reminded him of "Ramanand Sagar ka Ramayan ka woh episode".
Ramanand Sagar's Ramayan was the first TV epic that aired in 1987-88 on Sunday mornings, effectively bringing the country to a grinding halt. Arun Govil played Ram while Deepika Chikhlia played Seeta, bringing out devotional fervour among the elderly and superhero fanboy-giri among the young.
Source: www.sukanyaverma.com
Scene from original series episode: https://www.youtube.com/watch?v=t-9wUOsXq1c (22 minutes onwards)
Mogambo ka Bhatija
Crime Master Gogo was the first Bollywood villain with a lineage. He was the nephew of the great Mogambo, who made his mark in Mr India (1987). Mogambo was the mastermind behind all of India's evils and he rewarded minions with a carefully calibrated declaration of his happiness: "Mogambo khush hua!"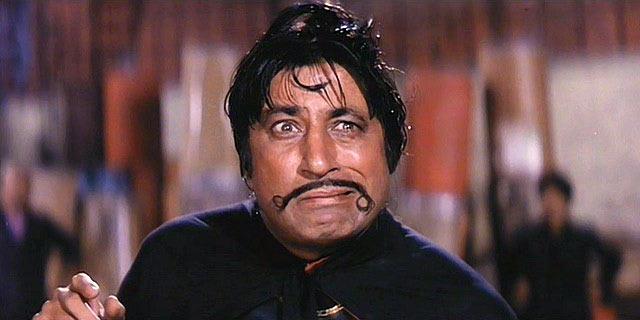 Source: im.rediff.com
Original scene: https://www.youtube.com/watch?v=M2oTvBieGP0
Raabert
The other villainous connection was Robert aka Raabert, alluding to Ajit – suave villain of the 1970s whose cool pronouncements about smuggling, debauchery and crime boss-giri became hugely popular as 'Ajit jokes'. Ajit the villain always had a moll called Mona (or Lily) and his most famous sidekick was Raabert (or Michael). His jokes and accent became famous enough to even be featured in a well-loved ad for ketchup.
Bhalla – who mimicked Ajit in the film – was played by Ajit's real-life son, Shehzad Khan!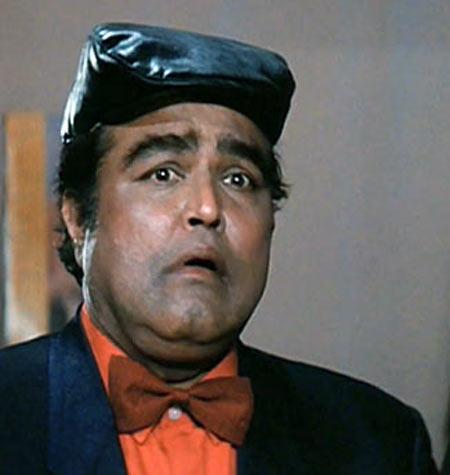 Source: im.rediff.com
Watch ad here: https://www.youtube.com/watch?v=iR9pug6pj4M
Read Ajit jokes here: http://www.jhulelal.com/jokes/ajit.html
Vasco Da Gama
"Kiske mama ki gun hain?"
"Yeh Vasco Da Gama ki gun hai."
Teja was given Vasco Da Gama's gun to kill Amar and Raveena and, of course, we know how that ended. The gun's 'owner' was a Portuguese explorer, who was the first European to reach India (at Calicut) and is now immortalised through a port and three football clubs in Goa (all of which are named after him).
Source: erosnow.com
Watch documentary on Vasco Da Gama: https://www.youtube.com/watch?v=jL2z2VCg5fw
Hamara Bajaj
When Teja aka Shyam Gopal Bajaj expressed his desire to open a poultry farm and a bakery in a bid to take over India's breakfast tables as "bread ka badshah, omelette ka raja", he also had an ad jingle in mind: Hamara Bajaj. While his plans came to a nought, his ad line was already a hugely successful campaign for Bajaj Scooters. This campaign is easily one of India's most memorable advertising campaigns.
Source: smbcinsight.tv
Watch original ad here: https://www.youtube.com/watch?v=scltYH13uEY
Ello ji sanam
AAA's only romantic song Ello ji sanam was again a tribute to a whole lot of things made famous by retro Bollywood. The tangewala beat of the song was made famous by music director OP Nayyar and the tune is an obvious tribute. Even the sequence – a tangewala in disguise – was similar to a song from the film Phir Wohi Dil Laya Hoon, composed by Nayyar and directed by Nasir Hussain (who is also Aamir Khan's uncle).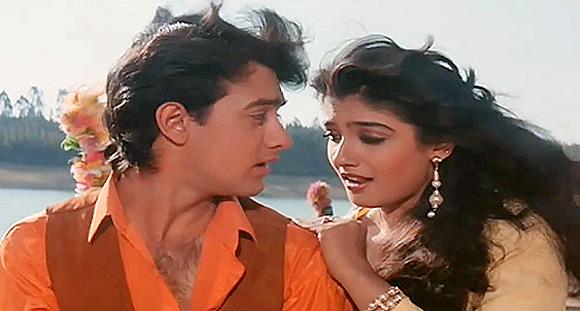 Source: im.rediff.com
Watch original song here: https://www.youtube.com/watch?v=COogVOe-4tQ
Latest Martini Shots
LATEST REVIEWS
I happened to watch De De Pyaar De. This is a rom com and even though it has been directed by deb... more

Legacy of a popular film, gorgeous looking people on equally gorgeous looking sets clad in drool-... more

If you are just like me who would run back home at 5 pm sharp and sit in front of the TV to watch... more