This 73 Year Old Man Should Be Your Social Media Guru!
So you think you are the baap of social media? Naah!
There's someone out there who's 73 years young, and killing it on social media. You HAVE to learn about his theory on social media and a few more pointers which make him an undisputed king of social media among all the celebs of his age and below!
1. Use this theory to counter your parents when they yell at you, 'Saara din Facebook pe baithe rehte ho!"
2. He's always online and has a brutally honest take on it! Read!
3. He just summarised Freedom Of Speech And Expression in a very simple way for you!
Source : Bollywood Life
4. He takes OCD on to another level on his social media accounts!
5. Just observe the kind of pictures and collages he keeps handy! He's bloody brilliant!
6. If you're an aspiring celeb, then stop ignoring the 253 likes and 90 comments on your status! KEY: REPLY!
7. You forgetful freak! Learn from him! Even if he uses Google to know many birthdays or has someone to remind him everytime, he manages to wish almost everyone with great zeal!
8. He's just like you! He too gets excited on winning an award and loves to check in at holiday destinations!
9. Your social media bio speaks volumes about you! Beat his bio!
10. Attention to details! Also, he has a sectionon FB called milestones, where he only has his Date Of Birth! We don't know if it's intentional or not, but that's the kind of swag you should have! What could be a better milestone than just being born haan?
Just in case you still need to know this Guru's name, rishety mein toh woh tumhare baap lagte hain, naam hai Shahenshah!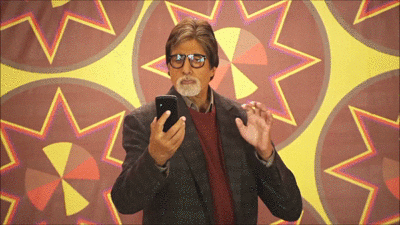 Source giphy
Related Content
LATEST REVIEWS
Rags to riches stories we've grown accustomed to end up sounding distant cousins of Disney fairy ... more

Kajol, Tanvi Azmi and Mithila Palkar starrer Tribhanga may be a story about mother daughter bonds... more

2020, without a doubt, has been a year that has thrown us off guard and sent us on a roller coast... more