Why On Earth Jimmy Shergill Never Gets The Girl At the End?
Jimmy Shergill is one of the most under-rated actors of Bollywood. He is consistently ignored when considerations of big-budgeted movies start. And even if he gets to be a part of such movies, he's often not given the lead role.
But that's not where the unfairness of it all stops.
Jimmy Shergill, despite being a good-looking and talented actor who mostly gets interesting parts, never seems to get the girl in his movies.
Don't buy it?
Just look at this:
Yesterday trailer of Happy Bhag Jaayegi released and guess what was the first scene of it was:
Here's Jimmy Shergill happily dancing on his wedding
And here's him looking all kinds of disappointed because his bride runs away with her boyfriend
But it's a one-off, right?
Wrong.
Here's Jimmy in love in 2002's Mere Yaar Ki Shaadi Hai.
And here's him losing the girl to Uday Chopra.
Look, he's all-set to marry Kangana Ranaut in Tanu Weds Manu.
But by the end of it, look who her won her heart.
And the same sh*t happened in the Tanu Weds Manu: Returns.
Before
After
*Poor Jimmy.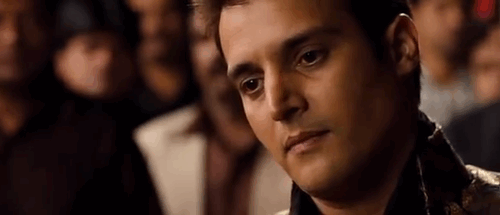 Read more: Here Are The First Pictures From Abhay Deol's Happy Bhag Jayegi
Get personalized recommendations on what to watch across 35+ OTTs only on
OTTplay
LATEST REVIEWS
Kriti Sanon and Pankaj Tripathi are two incredibly talented actors who have shared the screen twi... more

There has been quite some chatter about Ek Duaa. The film, which stars Esha Deol Takhtani and can... more

Priyadarshan lovers in Bollywood are in for a disappointment as the filmmaker returns to Bollywoo... more