5 Unbelievably Stupid Things Pahlaj Nihalani Said in the Last 72 Hours
People, he has done it again.
We have criticised Pahlaj Nihalani for a variety of reasons over the past month. Well, not a variety of reasons per say. Most of the attacks have been Udta Punjab-centric. But that doesn't discount the fact that Mr. Nihalani hasn't said a lot of truly ignorant and hypocritical stuff in a relatively short span of time.
And now he's at it again.
Why, you ask? Why does he say anything now, given how he was on the losing side of a major battle involving freedom of expression of creative people that has basically affirmed the redundancy of the governmental body he heads?
Well, we honestly don't know!
But anyway, let's get right to it.
First off, he put every critic in the land to shame by reviewing Sultan with such a natural knack for details.
When you talk about Sultan, it is impossible not to mention Sallu Bhai, right?
Yes, Bodyguard was really a profound experience that brought us closer to our true identities.
Also, Prem Ratan Dhan Payo.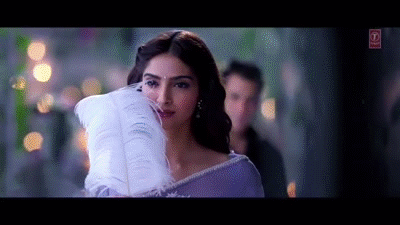 makeagif.com
Attacking Manoj Bajpayee for calling him a 'spent force'.
"I am still waiting for Manoj Bajpayee's career to start. Apart from 'Satya', which was a very good film, Manoj has not featured in any hits in the 10-12 years of his career."
2 National Awards. 2 Filmfare awards. Pinjar. Special 26. Gangs of Wasseypur. Rajneeti. Aligarh. Such a rookie this Manoj Bajpayee guy is really.
Great directors don't mean anything to him.
"There's a group of filmmakers in Mumbai comprising self-styled geniuses like Hansal Mehta, Tigmanshu Dhulia and above all, Anurag Kashyap, who make films that are praised to the skies by their colleagues and a handful of learned critics."
Just because EVERYBODY calls them talented, doesn't make them talented, right sir?
Read more: I Would Rather Sell Underwear Than Seek Publicity From Pahlaj Nihalani: Hansal Mehta
According to him, a movie is good only when it makes money. Looking at you, Anurag Kashyap.
Are you aware how much money Anurag Kashyap lost to his producers - close to Rs 300 crore have been lost through his flop pictures like 'Ugly', 'Bombay Velvet' and 'Raman Raghav 2.0'. He still continues to make films!"
Money is everything, sir. We couldn't agree more.
*Shudders
Read more: 6 Deeply Unsettling Quotes From Pahlaj Nihalani's Interview About Udta Punjab
Get personalized recommendations on what to watch across 35+ OTTs only on
OTTplay
Related Content
LATEST REVIEWS
Kriti Sanon and Pankaj Tripathi are two incredibly talented actors who have shared the screen twi... more

There has been quite some chatter about Ek Duaa. The film, which stars Esha Deol Takhtani and can... more

Priyadarshan lovers in Bollywood are in for a disappointment as the filmmaker returns to Bollywoo... more