8 Bollywood Celebs Who Have An Opinion On Almost Everything
India is a democracy with over a billion people calling this country their home. Being in a democratic nation entitles you the freedom to express your views, opinions and you can also show dissent about something you don't like. Bollywood celebs are arguably the most popular persons in our country as they always tend to stay in the news and the media light always shines the brightest on any action of a particular celebrity.
Sometimes, few celebrities just can't stop themselves from expressing their views and in turn, get roasted by the media and the general public alike. Also, if it sprouts controversy, police cases and FIRs follow. A reason for this can be the fact that most of these celebs aren't aware of the general ongoings or have half-baked information on a subject.
As the popular saying goes, "half knowledge is always dangerous". You'd wish these 8 celebs followed this and didn't have to express their opinion on almost everything:
KRK- The self-proclaimed film critic who has starred in gems like Deshdrohi has picked up fights with almost everyone ranging from Amitabh Bachchan to Swara Bhaskar and Rana Daggubati. He also apparently 'left' India after PM Modi came into power
Abhijeet Bhattacharya- The singer has spewed venom on twitter numerous times. From his controversial tweets comparing homeless people to dogs to sexist remarks against women, he even got his twitter account suspended.
Sona Mohapatra- The singer is (in)famous for expressing her views on almost every topic, From writing open letters on Kangana-Hrithik Roshan controversy to commenting on Salman Khan's acquittal, she has done it all.
Ram Gopal Varma- The director has picked fights with Karan Johar on Twitter, called some really nasty names to Big B and himself and also makes derogatory and sexist comments on women on a regular basis.
Rishi Kapoor- Though his tweets are sometimes fun to read, he has gone way beyond sometimes and has abused and engaged in a war of words with trolls and people who follow him.
Farah Khan Ali- The popular jewelry designer and sister of actor Zayed Khan is also infamous for tweeting whatever is on her mind. Her tweets on Salman Khan's Hit and Run case led to her apologizing profusely for her insensitive comments.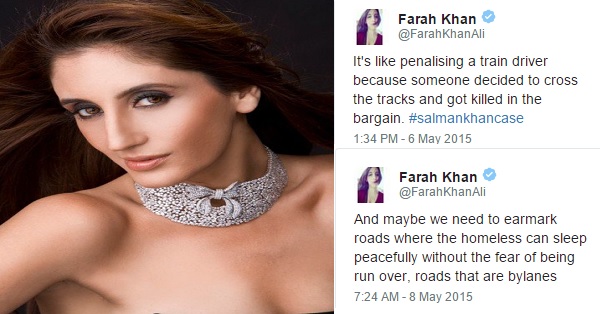 Sonakshi Sinha- The actress got into trouble by tweeting against the meat ban in 2015 and later on for a spat with singer-composer Armaan Malik who accused her of taking away opportunities from singers.
Rakhi Sawant- From calling herself better than Rekha, Jaya and Hema to wearing a saree with PM Modi's face placed at strategic locations, she has done it all.
Sonam Kapoor- From fighting with Abhay Deol on Twitter for fairness cream advertisements to tweeting against meat ban, the actress can't stop herself from getting into controversies.
Related Content
LATEST REVIEWS
Before I start the review I would like to say that censoring an A-rated movie is dumb, these movi... more

Just think about it, a third-world country managed to beat countries like America, Russia and Chi... more

Batla House depicts the infamous police encounters that took place on 19thSeptember against the I... more