Bigg Boss 10: Rohan Mehra Barred From Captaincy And Swami Omji Caught Stealing
The Bigg Boss house is bustling with tension after the new entrants have started making their mark in the house. It was just another day in the Bigg Boss house and as the morning came by and the contestants woke up to the tune of Chahe Koi Mujhe Janglee Kahe, they rush out find out the winner of the 'Dome' task between Bani and Priyanka. Priyanaka refuses to announce the winner to Manveer and as he walks away she cheekily give out the name.
Also Read: Bigg Boss 10: Swami Omji Gets A Makeover, Bani Has A New Sister!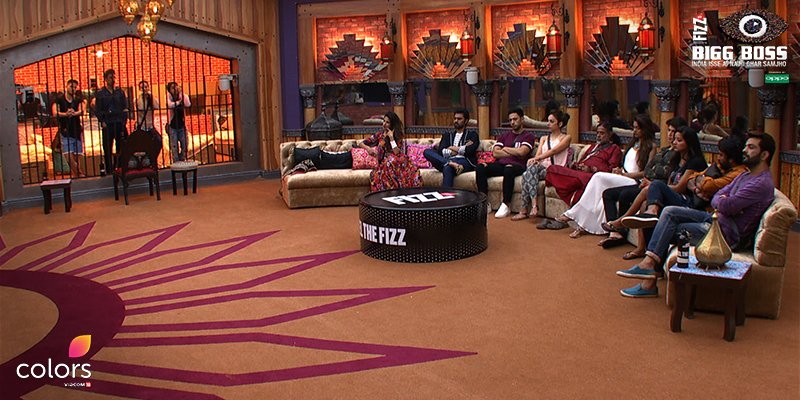 Source: twitter
With this just being the starting of the day's drama, here are the highlights of the day –
Swamji again gets screamed at – Manu Punjabi asks Swamiji his opinion about Monalisa and he says that he love everyone equally. The matter escalates and Manu shouts at him for disrespecting Mona and then calling her his daughter. Priyanka tells Swamji that he cannot disrespect women in this house. Swamiji take out his angst in front Sahil later.
Ploting and Planning – Bani tells Sahil about her conversation with Priyanka and that she plans to target Manu and Mona. With Manu's growing insecurity he talks to Priyanka about Bani trying to manipulate him. Swamiji who is definitely anti Manu tells Priyanka not to buy anything he says as he is trying to crate a rift between her and Bani.
The Challengers' Room – Bigg Boss announces the winners of the task, Gaurav, Sahil, Priyanka and Nitibha and also announces that the losers of the task Bani and Jason have to move to the challengers' area very quickly. Captain Rohan Mehra is called to the confession room and is asked to be strict with nominated contestants and make sure they do not come out.
Source: firstpost
The thief in the house – Manveer notices Swami ji hiding something under his pillow and when he later goes to check he find spoons. Telling the housemates that Swamji has some ulterior motives, Swamiji defends himself saying it's to keep the 'Asoor Shakti' away.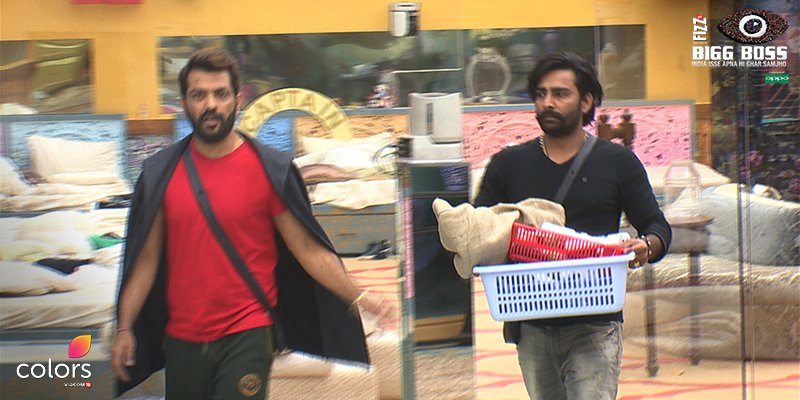 Source: twitter
Suspicious of him, Manu and Manveer chack his bag to find Lopa's perfume, deodorants and other household stuff. Swamiji is furious as to how they could open his bag without consent and gets in a brawl with Manveer. Priyanka gives Swamiji a last warning that if he doesn't stop such acts, she will quit talking to him.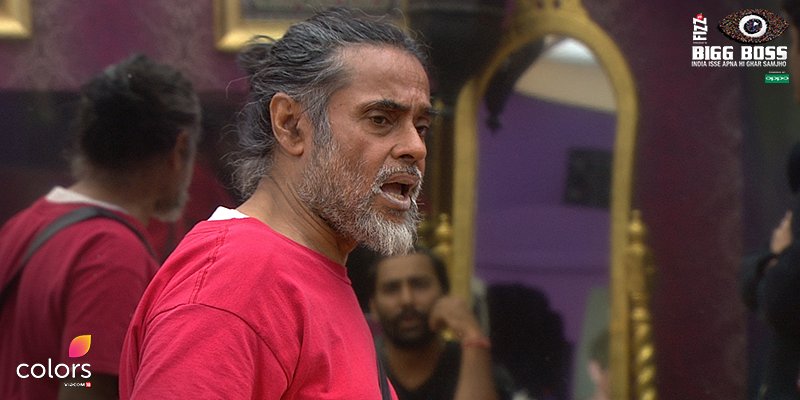 Source: twitter
With the inmates calling him a theif, Swamiji breaks down and Manveer, Manu and Nitibha console him.
Mona and Priyanka get in a brawl – Swamiji is talking to Priyanka about how Manu and Manveer are behind all the fighting in the house. Mona hers this and tells him to quit speaking ill of other as it later becomes a heated argument. Priyanka at this note gets into a tiff with Mona as she is insecure of Manu getting close to her. Mona gives it right back to her and is later applauded by Manu for doing this.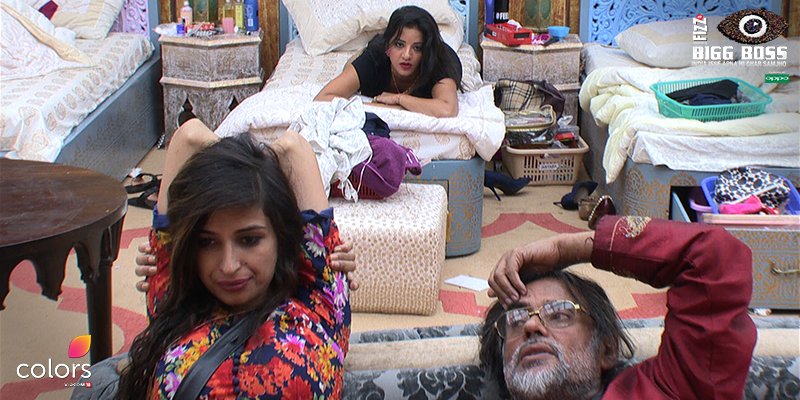 Source: twitter
Mona who had overheard Priyanka say that she should be in her limits confronts her about this. Jason and Bani enjoy the argument from the Challengers' Room. Mona also tells Manu about Swamiji bitching about Manveer and him to Priyanka and he asks her why she has to listen to Swamiji. Later Priyanka tries to sort the matters out with Mona by being overly sweet much to her discomfort.
Rohan Mehra barred from captaincy – Bani and Sahil discuss how everyone is doing their work as they please and that even the washrooms are dirty. Bani tells him that Rohan has been a neglectful captain and no timetable is being followed in the house. With Bigg Boss having to intervene in all matters, he announces that Rohan's captaincy stands terminated and further bans him from being the captain ever again. He also adds that not only has he been an irresponsible captain but also has the audacity to ask for more powers instead. Rohan who is clearly upset asks everyone about their opinion and all he gets is their pacification. Taking advantage of the situation Manu, Manveer and Priyanka plot to be the next captain.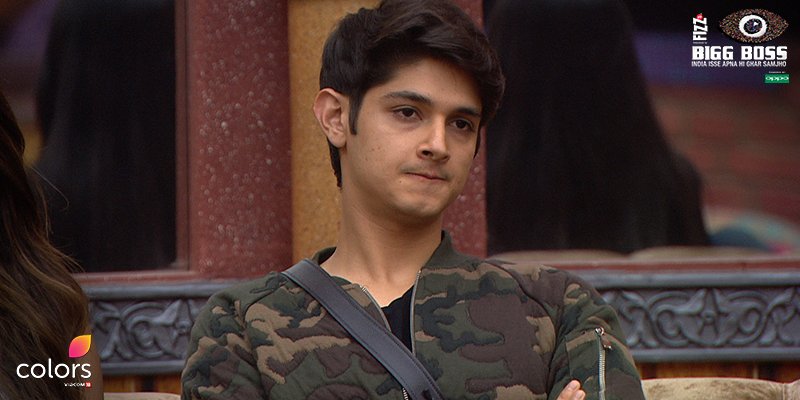 Source: twitter
Happy Birthday Bani –At midnight the housemates wish Bani on her birthday and present her the protein cake her friend had sent. Manu, Manveer, Rohan and Lopa Keep away from the cake cutting and singing. Bani only feeds the cake to Gaurav. Bani had instructed everyone not to toch her cake while Nitibha said that happiness should be shared. Lopa not caring an bit simply repeats Salman's words saying, 'Do whatever you want..' Rohan, Nitibha and Lopa discuss her selfish behavior.
With no captain in the house Bigg Boss will introduce a captaincy task and it might just create whole new problems in the house and driving a wedge between Manu and Manveer. The Bigg Boss 10 house had never been so interesting before.
Also See: Check Out These Unseen Pictures Of Bigg Boss 10 Wild Card Entrant Jason Shah And His Superhot Girlfriend!
For latest movie reviews, ratings and trailers, download the Desimartini App
Related Content
LATEST REVIEWS
Angrezi Medium tells the story of Champak and all the odds he undertakes to make sure his daughte... more

During a promotional event of Baaghi 3, Shraddha Kapoor had revealed that she wants to work with ... more

Thappad comes out as much needed in the times we are living in. Well from the day the trailer of ... more