Pehredaar Piya Ki: To Ban The TV Show Or Not?
The latest update on Sony's Pehredaar Piya Ki is that a petition 'against' the banning of this show has been started by a user called Divya S that reads, "People who haven't even watched the show or a single scene is coming against it and signing a petition to get it banned. In this scenario, few pointers are to be made clear and actions are to be taken against media and channels which publish absurd articles and half-baked news which is Creating big controversies." Read the full petition here.
This petition to save the show began when an online petition for banning the show was started by Mansi Jain on Change.org. It reads, "Pehredar piya ki. - A 10 year old impressionable little kid(" piyaa") caressing and stalking a lady who's more than double his age and filling sindoor in her "maang" is being telecasted at prime time -8:30 pm on sony. (Family time) It is to be devoured by the entire Nation. Imagine the kind of influence it will steadily and perpetually infuse in the viewer's mind set. We want a ban on the serial."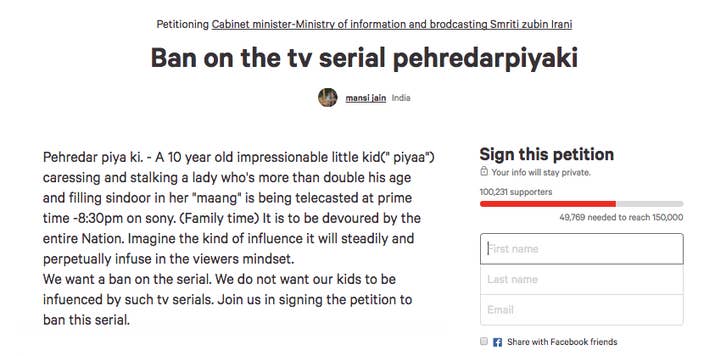 The online petition that started by Divya S. as a counter to a petition that demands a ban on the show, also claims that a wrongly captured shot and its caps have been circulated by the media. According to this petition, activists said that the show is pedophilia, while the show is about a pure platonic bonding between Diya and Ratan.
Tejasswi Prakash's reaction to the outburst: Ratan and my character are not married to have babies
"No, it's not what a normal suhag raat and honeymoon is like. Obviously, Ratan and my character are not married to have babies. It's different."
What do the makers of the show say?
Sony and the writer have maintained that Pehredaar Piya ki is a fiction story of a girl who willingly marries an Orphan boy of royal blood (It is a symbolic marriage, which as per dying father's wish will be legalized, when the boy turns 21) to protect the boy from an unknown enemy within the family. This she does partly as a return of gratitude towards the dying man who has once saved her from certain death and partly because the boy needs a security in a place where nobody can be trusted. Without this symbolic marriage, she cannot by any stretch of the imagination have the authority to really protect the orphan. The makers insist that the story turns our societies stereotypical thought that man is always the protector of woman upside down, presents a heroine who takes up the challenge and protects both her young orphaned husband and her own dignity.
Post the attack on Sanjay Leela Bhansali by the Karni Sena that wanted a ban on Padmavati (SLB's upcoming movie that stars Deepika Padukone, Ranveer Singh and Shahid Kapoor), the industry stood by him treating this incident as a matter of lack of freedom of speech and expression in a democratic country.
Personally, I'm on the wrong side of ban. Banning content serves no purpose. If it isn't appropriate or like-able, people will and should change the channel. When enough people do that, the message will be louder than any ban. But if they don't, that message also says something.
Vote about your opinion on banning the show in the poll below.
Updated: August 12, 2017 01:34 PM IST