Raabta Trailer: Sushant And Kriti's Electrifying Chemistry In This Reincarnation Saga Is To Watch Out For!
It has been long that the rumour of Sushant Singh Rajput and Kriti Sanon seeing each other has been doing the rounds. In fact, now the rumour is that they have broken up too! And all this started with the shooting of the movie Raabta. Now guess what, the highly awaited trailer of the movie is finally here!
The trailer starts on a really light note. It is all love dovey and cute. Sushant and Kriti's chemistry will really touch you. And it will also remind you of those days when you started developing a crush on someone and would do so many mushy stuff and say cheesy lines for them!
But all if it was just a love story like that, it would be pretty typical right? Well, the typical part is still there but the twist comes in the form of Jim Sarbh. Jim looks absolutely fabulous in this one and we would finally see him on screen after 'Neerja'.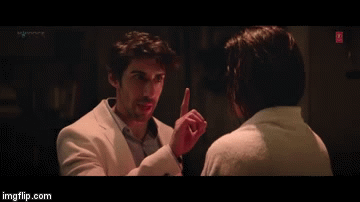 The film has a lot of time travel that will take the characters back to the past. So in the middle of all the mush, a sudden element crops in that will definitely remind you of the movie 'Mirzya' . Cut to the past, where all the three characters are either loving or fighting in absolutely different makeup (yeah, you can call it weird too, but it's fine overall).
And then finally- "Ek tha raja ek thi rani/ Dono mar gayye, khatam kahani".
Also, the song Raabta has been remade and it features on the background of the trailer!
Sounds interesting? Then check out the trailer here:
P.S- Bollywood doesn't have a great track record with time travel or reincarnation stuff. We really hope this movie does not turn out to be a BO disaster like other time travel movies.
Related Content
LATEST REVIEWS
What makes a Bollywood masala film become a hit at the box-office? There's always action, romance... more

Imagine this- a husband and wife are discussing about their child. The husband reads from a magaz... more

Aren't human beings supposed to be creatures who have their own vices and fallacies? But often ti... more