Move Over Harsh Reviews! Here's Why You Should DEFINITELY Watch Jab Harry Met Sejal If You Haven't Already!
Ok guys, enough of the negativity around Imtiaz Ali's Jab Harry Met Sejal! The movie is NOT bad! We've seen worse movies in Bollywood which have raked all the moolahs they didn't deserve. Haters who've suddenly woken up to criticize the s**t out of the movie need to calm down and people who haven't watched the movie due to negative reviews should definitely read the following points and then make a judgment.
Here are five ultimate reasons why you must watch Jab Harry Met Sejal before you decide not to watch it forever!
Watch JHMS for its simplicity
JHMS never promised to be an extraordinary love story or a magnum opus about love like never before! Imtiaz is often trolled and written about for making the same old story again and again with a different cast. The catch here is that nobody in the business can do it as beautifully as he does. The unconventional journey of Harry (SRK) and Sejal (Anushka) is a beautiful love story which is simple. An already engaged girl falls for her tour guide in the most natural way when she not only searches for a lost ring but also undergoes a journey of self-discovery and understands what she doesn't want from life.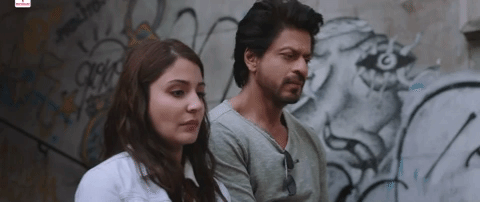 source giphy
The narrative of JHMS is a quintessential Imtiaz Ali narrative that takes its own pace in due course of time which is not for the audience that likes masala movie entertainers. Here's a man who has his own signature style of storytelling. Take it, or leave it. Don't ridicule his art and passion that is infused into a movie. Besides Karan Johar, Imtiaz is the only filmmaker who translates contemporary relationships onto celluloid which are a mirror of who we are in love and life.
It's as real as it gets
Some people who didn't like JHMS could either be totally masala movie lovers or some of them could be escapists because Imtiaz Ali movies are real! If it pinches them then it is still striking the right chords with people who do not like it. Because it's real! The evolution and portrayal of a conventional yet modern Gujarati girl Sejal who misses her flight to find her engagement ring which she's lost on her Eurotrip are the stories of many girls.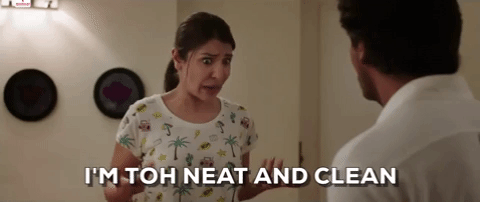 source giphy
The way she speaks, dresses, her ideology, and beliefs are not alien. The indemnity form she signs is a reflection of how modern day girls think and how having sex and sharing a room with someone doesn't make them an 'uncultured girl' or 'gandi ladki'. Harry's character who is a self-proclaimed Casanova accepts and confesses that he knows he's like that and yet he also can fall in love with a girl once and for all.
JHMS is one of SRK's best romantic performances ever
Anyone who thought his time is over and he must retire, JHMS is a reality check. SRK proves once again that no one can romance a girl like he does onscreen. Not only does he charm you with his impeccable romantic style as he travels across Europe with Sejal, but he also solidifies the fact that no one can emote life and love better than him.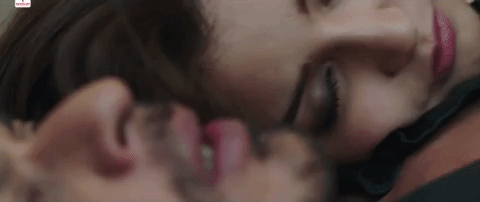 source giphy
There are scenes when he's supposed to switch from a happy moment to another where he's crying like a baby, sometimes he's crying in Sejal's presence and trying to hide his tears, sometimes he's too much in love with her and yet he has to camouflage his emotions and make them sound more like a responsibility or concern. SRK nails it in every scene in this movie, and you will thank Imtiaz for giving us back our charmer, our romantic king, Shah Rukh Khan!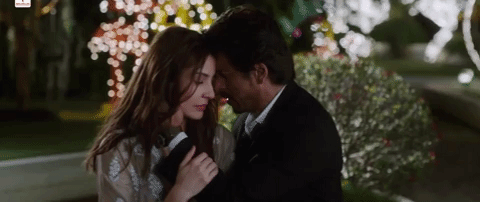 source giphy
Anushka too tries her best to match up to the king in every possible way! She deserves the accolades because of her attempt to sound like a Gujarati girl looks effortless, and her confidence doesn't drop an ounce when she shares the screen with SRK. She's equally effective and engaging, so you can't say that brand SRK takes over this movie!
Watch it for the screenplay and background score
While Pritam's music is topping the charts already, it would be unfair if we don't credit Imtiaz for the screenplay and Hitesh Sonik for the background score. The narrative, score, and music blend so well in the movie that it's more like an experience than just a mere film. The die-hard Imtiaz fans will take some days for them to come out of that experience.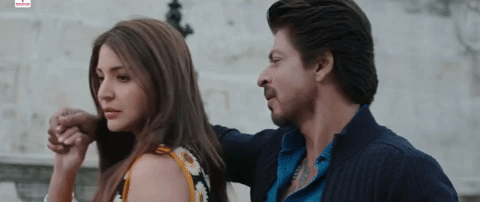 source giphy
Jab Harry Met Sejal is one of those movies that stay with you!