Kapil Sharma OR Sunil Grover: Viewers Are Supporting THIS Star!
Thanks to the recent series of events that have happened with Kapil Sharma, the world of comedy has become literally gloomy these days.
In a nutshell, all's not well between the two most popular comedians on TV. According to recent reports, Kapil Sharma physically assaulted Sunil Grover on a flight and made it evident that he is just another character in his show, and he's a star maker. He howled verbal abuses at him and fans have gone crazy after this event.
Do you think this is just a coincidence?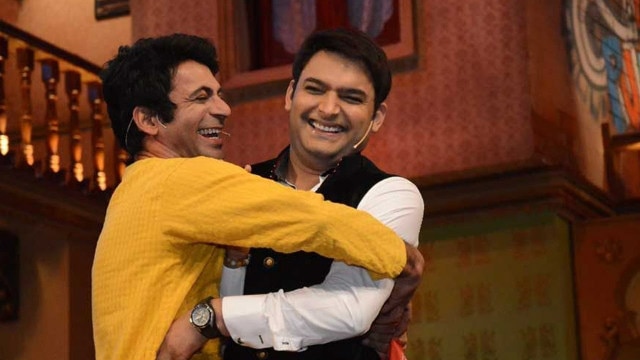 source filmymonkey
Kapil's tiff with Sunil Grover began right from the days of Comedy Nights With Kapil. When he had quit the show after his character of Gutthi became widely popular, the massive outrage from the audience made Kapil bring him back to the show. This was the second time on Indian television when a character was so in demand. The first time a popular character was brought back on TV, was when Mihir died in Kyunki Saas Bhi Kabhi Bahu Thhi. Gutthi's popularity was insane.
Following the stupendous start of The Kapil Sharma Show after the bitter arguments between Colors and Kapil, the latter became a bigger star among the masses. People touted him as the most successful comedian ever and fans were happy that he defeated all odds against a leading channel and made a comeback with his show on another TV channel.
The Kapil Sharma Show soon entered the top 5 TV shows in the TRP race. Recently the channel renewed his contract for an approximate 110 Cr and that's when people believe that success got to his head. Kapil Sharma became bigger than the channel in the eyes of audiences.
But, soon rumour mills suggested that it was Sunil Grover's character Dr. Mashhoor Gulati, and not Kapil who was bringing in the TRPs. This allegedly made the comedian insecure and he introduced a new character Dr. Rajiv Arora (which Kapil plays himself) who is the elder brother of Dr. Gulati and Dr. Arora keeps insulting him.
Chandan who plays the chai wala in his show is Kapil's childhood friend and now the equation has changed between them. On a tour to Australia Kapil had a fall out with him and things have not been good between them ever since.
Kapil Sharma has perhaps not weighed the wider consequences of rumours of his alcoholism and his arrogant behavior with his colleagues.
It is also being said that the reason why he shared his would be wife's picture was to pre-empt media's attention from this controversy to his love life. The news of Kapil assaulting Sunil Grover on a flight surfaced hours after he posted Ginni Chatrath's picture on social media. A lot of fans who are in his favour expressed their anguish over this spoiler on a good day.
Later Kapil posted a long message on social media to make up for it.
Paji @WhoSunilGrover sry if I hurt u unintentionally.u knw vry well how much I luv u. M also upset .love n regards always:)

— KAPIL (@KapilSharmaK9) March 20, 2017
Then Sunil Grover posted another message with a strong essence but with love to his friend Kapil. The message however has a lot that you can read between the lines but Kapil surely hasn't understood it.
Desimartini ran a poll seeking audience verdict – in favour of Sunil Grover or Kapil Sharma and the audience is clearly supporting Sunil here. Take a look at the results and the comments of the fans below.
Related Content
LATEST REVIEWS
Before I start the review I would like to say that censoring an A-rated movie is dumb, these movi... more

Just think about it, a third-world country managed to beat countries like America, Russia and Chi... more

Batla House depicts the infamous police encounters that took place on 19thSeptember against the I... more